Bio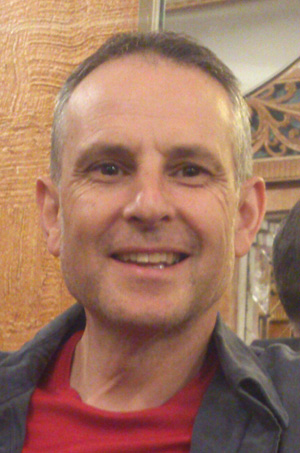 If a single word could sum up my paintings it would be drama. The drama of clashing colours, the extremes of light and shade at sunset, the wonderful juxtapositions that a city presents.
A common theme in my earlier work is The Grande Vista: Sydney Harbour from Bellevue Hill, Lyttelton Harbour (NZ), San Francisco from the air.
Most recently I have produced a series of street scenes of the Sydney suburbs of Glebe, Newtown and Surry Hills, locations of which I am well familiar.
This new genre is proving a rich source of inspiration as I seem to see paintings at every turn!
I seek to elevate the overlooked, to glory in the ordinary, presenting the viewer with a shock of recognition.
I'm into the sweetness of life. Beauty basically. Why? Because sorrow comes easy.
I feel priviliged to live in Sydney and love the thrill people feel, when they get what I'm on about..

Born
1961 Reefton, New Zealand
Exhibitions
2015 October - Dancing About Architecture - Gauge Gallery - Glebe, Sydney
2014 September - My Icons - Gauge Gallery, Glebe, Sydney
2012 January - Newtown And Around - Berkelow Cafe - Newtown, Sydney
2010 June - Clash Of The Frypans - May St Gallery - St Peters, Sydney (with Hillary Latta)
2008 October - Chapel by the Sea - Sydney
2008 September - Two New Views - Gig Gallery - Glebe, Sydney (with Dot Wilkin)
2008 July - Two Special Men - Blank_Space - Surry Hills, Sydney (with Martin Yusuf)
2008 April - Two Special Men - Gig Gallery - Glebe, Sydney (with Martin Yusuf)
2008 February - Three Men - Tap Gallery - Darlinghurst, Sydney (Martin Yusuf, Darren Cooper)
Group Exhibitions
2008 May Pyrmont Art Festival, Sydney
1997 Tap Gallery, Sydney
1991 With Music In Mind Port Gallery, Lyttelton, New Zealand
1985 Art for Christ Sake Canterbury Society of Arts Gallery, Christchurch, NZ
Awards
2008 Winner - ''Storm On King'' - Newtown Community Annual Art Award
2006 Winner - ''Best Street In Redfern'' - Newtown Community Annual Art Award
2006 Winner - People's Choice Award - Newtown Community Annual Art Award
Newpapers
South Sydney Herald - In praise of street art
References
Maureen Cahill - Director - Glass Artists' Gallery